Kali Audio
Regular price
Rs. 89,990.00
Regular price
Rs. 99,990.00
Sale price
Rs. 89,990.00
Unit price
per
Sale
Sold out
Share
Three way Studio Monitor with 8 inch woofer, 3 inch midrange and tweeter in a coincident design. 60W + 40W + 40W (LF+Mid+HF).Sold as a Pair
Three way Studio Monitor with 5 inch woofer, 4 inch midrange and tweeter in a coincident design. 80W + 40W + 40W (LF+Mid+HF).Sold as a Pair
Kali's IN-Series monitors are some of the most innovative studio monitors ever made. Combining the natural advantages of a 3-way design with hyper-realistic imaging of a co-axial mid-range and tweeter, they offer more transparency, lower distortion, and a soundstage that must be heard to be believed.
Performance
Unrivaled Punch and Detail.
The IN-Series monitors are unlike anything you've ever heard. The three-way design lets both the woofer and the tweeter do less work, resulting in better headroom and lower distortion across the frequency spectrum.
At the same time, the coaxial architecture of the midrange and tweeter result in hyper-realistic imaging. This means that you'll be able to hear subtle details in your mix with pinpoint precision.
The design of the system comes together to allow the IN-Series monitors to act as acoustic point sources. They enjoy all the benefits of both traditional 3-way systems and traditional coaxial speakers, with none of the drawbacks traditionally associated with either.
All of this make the IN-5 and IN-8 extremely accurate and easy to mix on. You'll be able to work faster and with more confidence, and your mixes are going to translate to other systems with less work.
39 Hz
Lower Frequency Response
< 2% System THD
85 dB @ 1M
37 Hz
Lower Frequency Response
< 1% System THD
85 dB @ 1M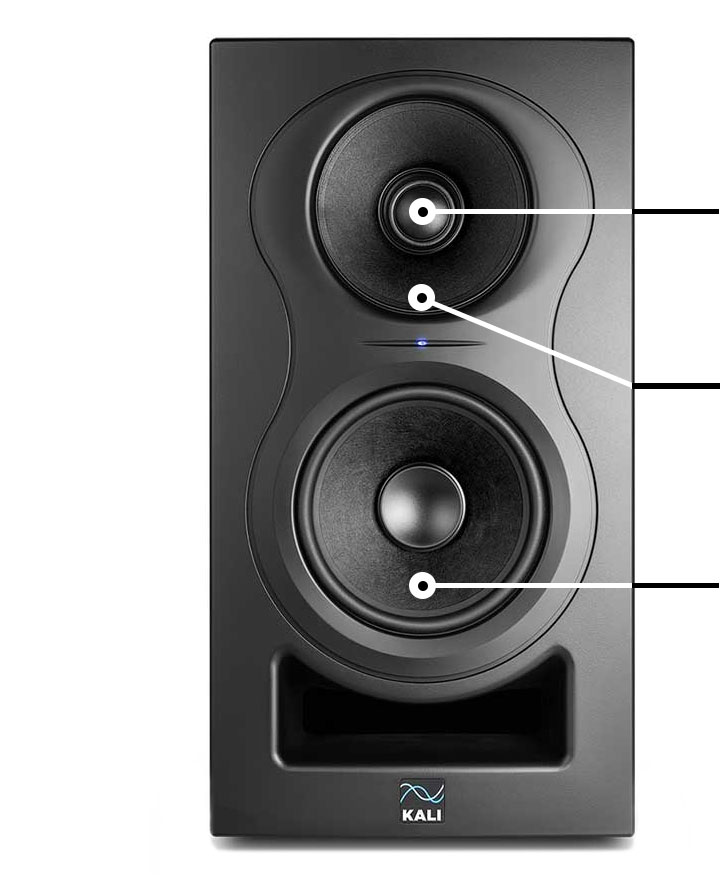 Soft Dome Tweeter
Smooth, effortless highs.
Profile-optimized Midrange Driver
Clear mids and excellent directivity all the way to the top of the frequency response.
Powerful Woofer
Clean, punchy bass that doesn't disrupt the mids and highs.
Ceiling/Wall Mounting
Kali Audio's speakers can be easily mounted for overhead use, or even to a wall, using Triad-Orbit and Triad-Orbit Precision products. Per-loudspeaker mounting plates are available for the LP-6 V2, IN-5, and IN-8 V2. Also available are mounts that interface with these mounting plates and Triad-Orbit's wall mounting ecosystem of products. Before mounting a Kali loudspeaker, check to make sure that it says "Wall/Ceiling Mountable" on the back of the speaker. Contact Kali customer service if you have any questions. Your dealer can help you find the right TriadOrbit mounts for your application, and Kali is also here to help!
| | IN-5 | IN-8 v2 |
| --- | --- | --- |
| Powered: | Yes | Yes |
| Amp Class: | D | D |
| DSP Functions: | Loudspeaker Tuning, Limiter, Crossover, Boundary EQ Settings | Loudspeaker Tuning, Limiter, Crossover, Boundary EQ Settings |
| Power Config: | Tri-Amped | Tri-Amped |
| LF Power: | 80 W | 60 W |
| Mid-Range Power: | 40 W | 40 W |
| HF Power: | 40 W | 40 W |
| Total Power: | 160 W | 140 W |
| LF Driver: | 5-Inch Paper | 8-Inch Paper |
| Mid-Range Driver: | 4-Inch Optimized Profile Paper | 4-Inch Optimized Profile Paper |
| HF Driver: | 1-Inch Textile Dome | 1-Inch Textile Dome |
| Freq. Response (-10 dB): | 39 Hz - 25 kHz | 37 Hz - 25 kHz |
| Freq. Range (±3 dB): | 47 Hz - 21 kHz | 45 Hz - 21 kHz |
| LF to Mid-Range Crossover: | 280 Hz | 280 Hz |
| Mid-Range to HF Crossover: | 2800 Hz | 2800 Hz |
| Recommended Listening Distance: | 0.5 - 3 Meters | 0.5 - 4 Meters |
| Max SPL: | 115 dB | 117 dB |
View full details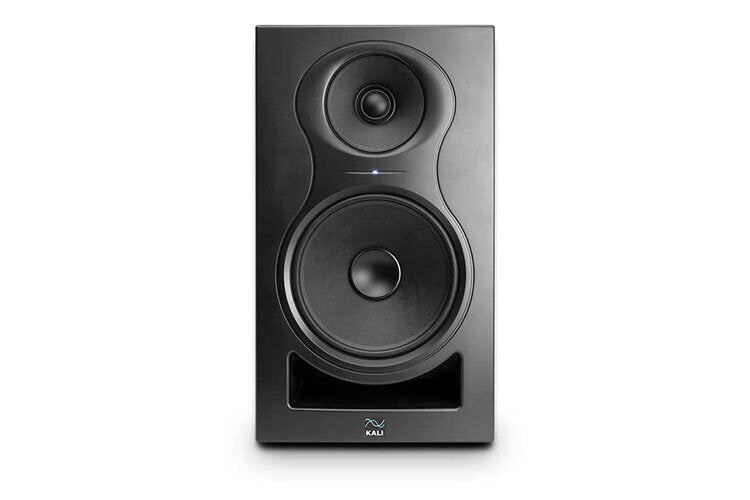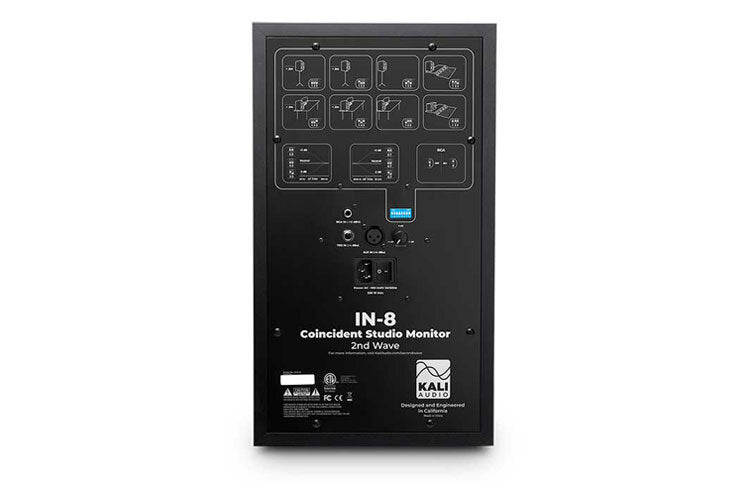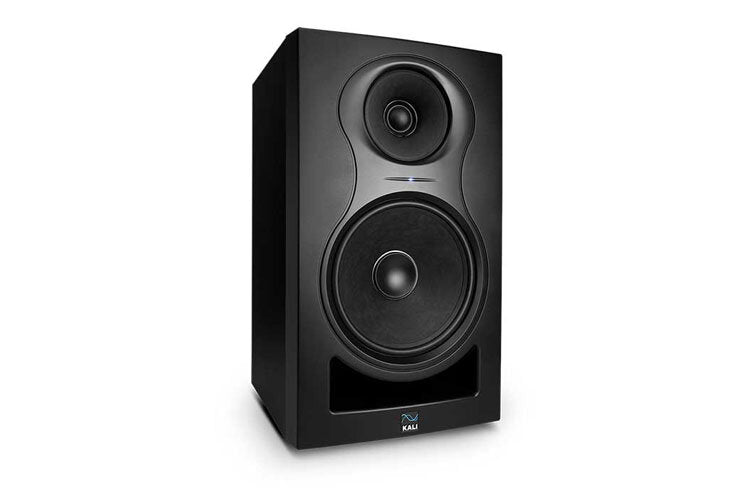 ADAM AUDIO T8V
Recording Magazine tests our new T8V nearfield monitor and draws the following conclusion:" The low...
Read More
Focal Pro
Professional Audio
Our professional monitors are designed from the very beginningto
reporoduce the sound signal without any alteration. These monitors
will meet the needs of the biggest studios as well as the smalles ones.
'Listen to your music, not to your speakers!'
Shop now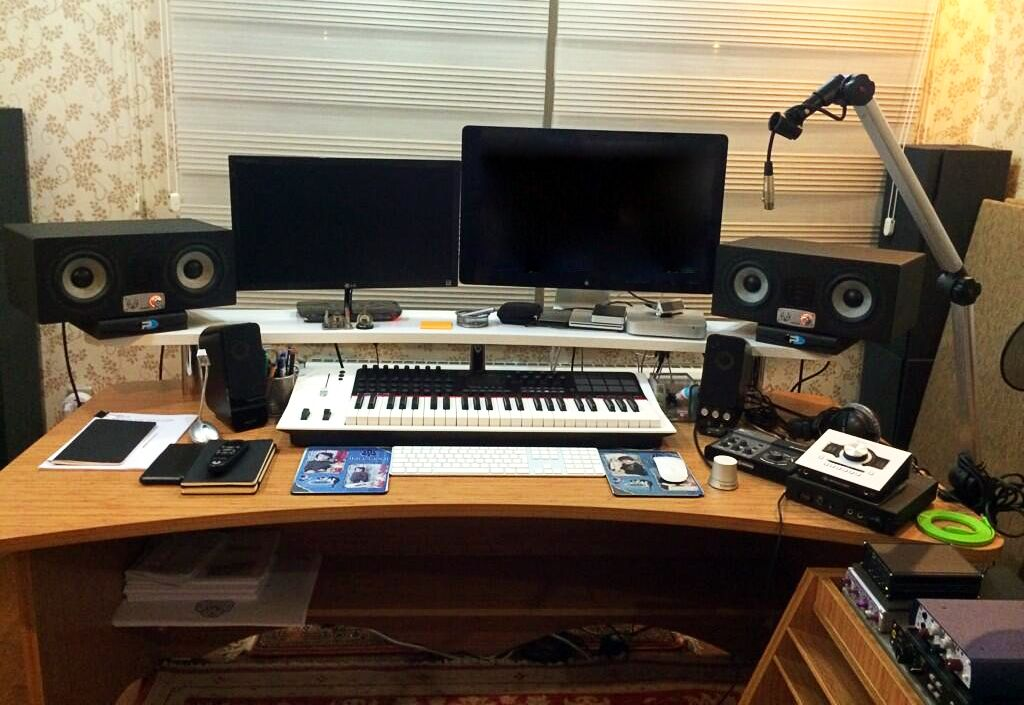 EVE AUDIO
SC4070 WON 37TH TEC AWARD
EVE Audios SC4070 won the 37th Technical Excellence & Creativity (TEC) Award in the category of Studio Monitors.
Shop now