Share
Universal Audio
Regular price
Rs. 343,952.00
Regular price
Rs. 362,055.00
Sale price
Rs. 343,952.00
Unit price
per
Sale
Sold out
16-in/22-out, 24-bit/192kHz, Thunderbolt 3 Audio Interface with 8 Unison Preamps, LUNA Compatibility, Premium Plug-in Suite, and Realtime Analog Classics Plus Plug-in Package - Mac/PC AAX 64, VST, AU, RTAS
Apollo x8p Heritage Edition (Rack/Mac/Win/TB3)

Produce large sessions with album-ready sounds in realtime.
Apollo x8p gives engineers and producers recording big projects the same professional analog tones heard on your favorite records with eight onboard Unison™ mic preamps. With elite-class conversion and HEXA Core UAD plug-in processing, Apollo x8p is the only interface that lets you record through preamps from Neve, API, Manley, and more — with near-zero latency — giving you professional sound in a sleek rackmount Thunderbolt 3 audio interface.
Get professional sound with the widest dynamic range and lowest noise available
Record your vocals and synths in realtime through classic mic preamp emulations from Neve, API, Manley, Avalon, and more
Link up to four Apollos for 156 channels of premium I/O and control it from Apollo Twin or x4
Create with seamless hardware-software integration and analog console modeling in LUNA Recording System
Hear Every Detail in your Recordings
Apollo x8p's proven A/D and D/A conversion gives you the same elite-class sound heard on thousands of hit songs and chart-topping albums. Widely praised for its open, natural sonics, Apollo's converters give you the perfect palette to paint your masterpiece.
Record Synths and Vocals through Iconic Preamps
With its eight onboard Unison™ preamps, Apollo x8p is the only interface that lets you track large projects in realtime through preamps and channel strips from Neve, Manley, API, and dozens more, giving you the same rich analog texture as the hardware used on decades of iconic music.*
Get the Pro Sounds of Analog Hardware, in a Single Rack Space
Right out of the box, Apollo's included plug-ins give you album-ready tones in realtime with professional tools like the UA 610-B Tube Preamp & EQ, Fairchild compressors, amps from Marshall and Ampeg, and more. Plus, Apollo lets you tap into the entire UAD plug-in library, giving you the proven hit-making sounds of Ocean Way Studios, Capitol Chambers, and hundreds more.
Record with a Fast, Natural Workflow using LUNA
Apollo works with all major DAWs, but only LUNA Recording System gives you seamless integration with Apollo, for big analog studio sound — in realtime — using a host of built-in features and extensions from API console modeling to genuine Neve summing and integrated Studer tape.

Learn more about LUNA ›
Your New Analog Studio, Expanded
Link up to four Apollos for 156 channels of premium I/O as your studio grows, and control it all from your desktop using Apollo Twin or x4.
UAD Plug-Ins vs. Analog Hardware
Watch Grammy-award winning producer Jacquire King (Tom Waits, Kings of Leon) put UAD plug‑ins to the test in a live session featuring electronic-soul artist Jamie Lidell.
Realtime Analog Classics Plus Bundle
With the Realtime Analog Classics Plus plug-in bundle, you not only get legendary compressors such as the Fairchild® 670 and EQs like the Pultec® EQP-1A, but also stunning guitar and bass amp emulations from Softube, and UA's landmark 610-B Tube Preamp and EQ plug-in.
UA 610‐B
Marshall Plexi Classic Amplifier
Fairchild 670 Legacy
Teletronix LA‐2A Legacy
UA 1176LN Legacy
UA 1176SE Legacy
Pultec EQP‐1A Legacy
Pultec Pro Legacy
Ampeg®SVT-VR Classic Bass Amp
Precision Channel Strip
Precision Reflection Engine
Precision Delay Modulation
Precision Delay Modulation L
UA Precision Enhancer Hz
Raw Distortion
RealVerb‐Pro
---
UA 610-B Tube Preamp and EQ
Impart your tracks with the iconic warmth and character of the classic hardware used to track everyone from Duke Ellington to Coldplay. By emulating the entire signal path, including tube amplifiers, transformers, and circuit nonlinearities, the 610-B Tube Preamp and EQ plug-in injects organic detail and saturation to any signal — whether you're re-amping or tracking through the 610-B via Universal Audio's Unison™ technology.
Marshall®
 

Plexi Classic Amplifier

The undisputed alpha dog of rock and roll guitar amps, the Marshall "plexi" amplifier is as legendary as the music it helped create. From Jimi Hendrix to Jimmy Page, Duane Allman to Eric Clapton, the Plexi's punishing melange of snarl, sustain, smoothness, and raunch defined the sound of rock. Developed by Softube, the Marshall Plexi Classic Amp plug-in gives you the sound of this iconic amp with a perfectly placed microphone from engineer Tony Platt who recorded AC/DC's Back in Black and Highway to Hell.
Fairchild®
 

670 (Legacy)

The world's most coveted compressor, the classic Fairchild 670 tube limiter will give your tracks and mixes unmistakable tube warmth and character. Whether you're looking for subtle compression on a lead vocal, or grittier textures that can work on guitars, bass, or a drum bus, the Fairchild 670 plug-in adds a classic "glow" to anything you run through it.
Teletronix®
 

LA-2A Classic Leveling Amplifier (Legacy)

With its gentle, program dependent optical compression and meticulously designed tube amplifier, the LA-2A is the go-to compressor for professional mixers around the world — especially for vocals. Incredibly easy-to-use Peak Reduction and Gain controls gives you the ideal optical compression sound for guitar, bass, drums, and more.
1176SE/LN®
 

Classic Limiting Amplifiers (Legacy)

Get classic, ultra-fast FET compression from the world's most recognized compressor. The 1176 will impart punch, presence, and character as well as its signature distortion overtones on drums, vocals, guitars, and bass. The 1176LN has graced countless recordings, from Led Zeppelin, to the White Stripes and Michael Jackson.
Pultec®
 

Pro Equalizers (Legacy)

Mix with two of the most sought-after hardware EQs ever made — the MEQ-5 Midrange Equalizer and the EQP-1A Program Equalizer. Both of these tube-based icons deliver smooth and silky EQ curves with an abundance of warm analog character.
Ampeg®
 

SVT-VR Classic Bass Amp

Introduced in 1969, the Ampeg SVT bass amp is still the reigning king of high-powered tube bass tone. Developed by Brainworx, the Ampeg SVT-VR Classic Bass Amp plug-in perfectly captures the raw power and punch that has made this the go-to amp for rock, funk, and soul players. Track in real time using Unison™ preamp technology for the tone, touch, and feel of a real SVT bass amp, or transform bland DI tracks with the thunderous roar of a stone cold classic.
Precision Mix Rack Collection
Featuring the Precision Channel Strip, Precision Reflection Engine, and Precision Delay Modulation plug-ins, the Precision Mix Rack Collection offers four modern, high-fidelity plug-ins for recording and mixing. Powerful and intuitive, Precision Mix Rack Collection gives you an impressive tool set — perfect for beginners and seasoned professionals alike.
UA Precision Enhancer Hz
Expertly dial-in your music's low-end frequencies with the Precision Enhancer Hz plug-in. Able to yield exacting results with minimal adjustment, the Precision Enhancer Hz can add weight to kick drum samples, fatten up a synth bass, or simply make the low-end of your tracks more audible on smaller speakers.
Raw Distortion
Modeled from a vintage early-'80s Pro Co Rat, Raw Distortion delivers all the gritty dynamic raunch of the legendary stompbox. And with Unison™ technology, you can plug in to Apollo Twin, 8, or 8p's front-panel Hi-Z instrument jack and experience the same circuit interaction, gain range, and clip points for the true tone, feel, and response of the original hardware.
RealVerb Pro
RealVerb Pro is a flexible, natural sounding reverb based on UA's own unique set of algorithms. Allowing you to design the room just as you hear it, the RealVerb Pro goes beyond simply big/small or dark/bright, giving your sources distortion-free, smoothing diffusion control and ultra-long reverb tail.
View full details



ADAM AUDIO T8V
Recording Magazine tests our new T8V nearfield monitor and draws the following conclusion:" The low...
Read More
Focal Pro
Professional Audio
Our professional monitors are designed from the very beginningto
reporoduce the sound signal without any alteration. These monitors
will meet the needs of the biggest studios as well as the smalles ones.
'Listen to your music, not to your speakers!'
Shop now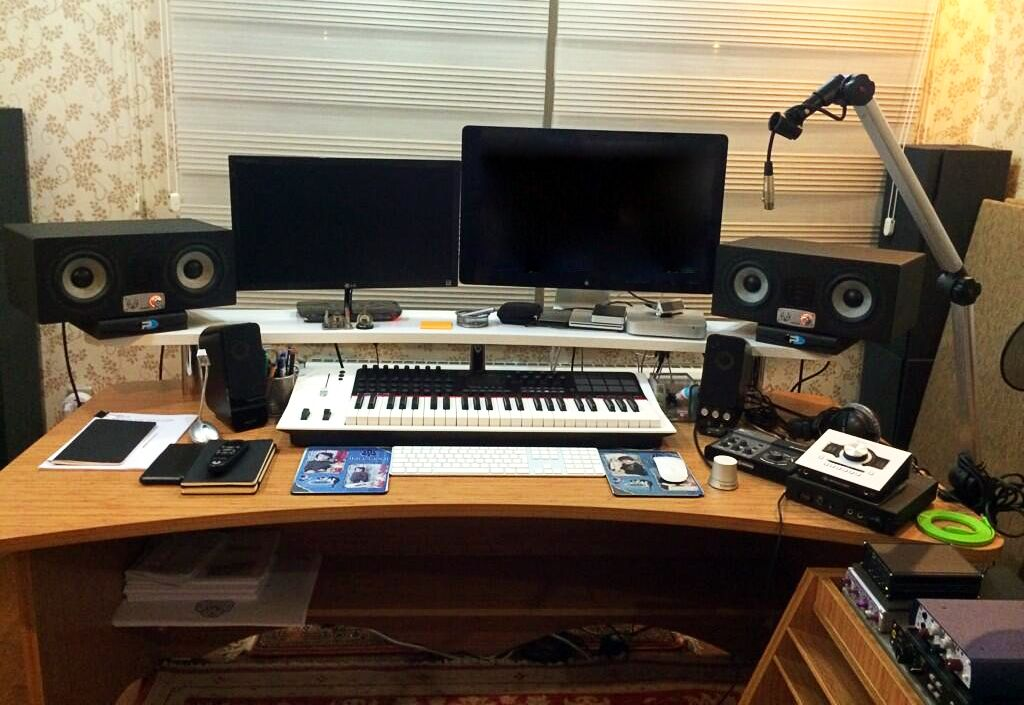 EVE AUDIO
SC4070 WON 37TH TEC AWARD
EVE Audios SC4070 won the 37th Technical Excellence & Creativity (TEC) Award in the category of Studio Monitors.
Shop now