Share
Roland
Regular price
Rs. 84,500.00
Regular price
Rs. 92,829.00
Sale price
Rs. 84,500.00
Unit price
per
Sale
Sold out
5-piece Electronic Drum Set with 8" Snare, 3 x 6" Toms, 2 x 10" Cymbals, 10" Hi-hat, Kick Pad, and TD-07 Sound Module
TD-07DMK
V-Drums
The Most Compact and Affordable Kit in the TD-07 Series
Compact and keenly priced—but with the professional tone, feel, and features to improve your drumming fast—the TD-07DMK is the entry point to the V-Drums TD-07 series. While the pads are smaller than the kits higher up the range, you'll appreciate the satisfying feel from the PDX-8 snare and three PDX-6A toms, all featuring Roland's ultra-quiet, double-ply mesh heads. The compact CY-5 crash and ride cymbals let you play with expression where space is tight, while a stand-mounted kick pad helps create the TD-07 range's smallest footprint to make the perfect home kit.

Despite the compact size, you can still think big thanks to creative features that stretch beyond any acoustic kit. Call up authentic drum kits covering a range of styles and genres, and use deep tone editing tools to customize sounds just how you like. There's also an onboard Coach mode to help you learn, Bluetooth® connectivity so you can play along with music streamed from your phone, tablet or computer, and USB to connect with computer-based recording software.
Standard Features
TD-07 module with 25 preset kits, 25 user kits, and 143 instruments
V-Edit, EQ, ambience, and 30 multi-effects offer deep editing tools to create your perfect drum kit sounds
Snare and tom pads with Roland's legendary double-ply, tension-adjustable mesh drumheads
One PDX-8 8-inch snare pad with independent head and rim zones for assigning different sounds and three PDX-6A 6.5-inch single-zone tom pads
KD-2 kick pad attaches directly to the drum stand
CY-5 10-inch crash and ride cymbals with choke support
CY-5 10-inch hi-hat cymbals and integrated foot pedal, with fine incremental control between open and closed positions
Four-post drum rack stand with metal construction and sturdy clamps with strong grip
Integrated Bluetooth lets you wirelessly stream sound from smartphones, tablets, and other Bluetooth devices and send MIDI data to music apps
Advanced built-in metronome with the ability to adjust time signature, note value, and click tone
Onboard Coach function provides interactive tools to build timing skills and track progress
USB for recording audio and MIDI data to computer music software
Support for kit expansion with a second crash cymbal (CY-8 V-Cymbal and MDY-Standard cymbal arm sold separately)
Authentic V-Drums Performance
Since 1997, Roland V-Drums have earned their position as the industry-standard in electronic drums. Often imitated but never equaled, V-Drums offer the sound, feel, and playing experience of an acoustic kit, backed up by technology, features, and reliability that you won't find anywhere else. And as the entry-level kit in the TD-07 series, the TD-07DMK brings this proud heritage within reach of all drummers—from those just starting out to seasoned players.
Powerful TD-07 Sound Module
The secret to a superior electronic drum kit is a powerful sound module, and the TD-07DMK features the same TD-07 brain used in kits higher up in the series. Choose from acoustic drums, electronic drums, and a range of percussion instruments—all recorded in professional studios and brought to life by advanced V-Drums technology.
Digital Drums That Don't Disturb
The TD-07DMK is the electronic drum kit that excels for home use—set the volume low while you warm up or practice in peace with headphones. The drum stand and mesh pads are also far quieter than lesser digital drum kits, which is very important if you're drumming in a space where you could disturb other people. Our mesh heads minimize pad noise without compromising on playing feel, while specially designed damping in the kick pad cuts noise and vibration. Even the drum stand is designed to reduce noise and vibration transfer to the floor, and noise can be reduced further with Roland's range of optional solutions if required.
Play Out of the Box—or Go Deeper
Jump on the drum throne and you'll find inspiring preset kits that compel you to start playing. And when you're ready for more, dive into a huge library of drum sounds, switching up snares, mixing toms, trying out different kicks, or swapping out heavy crashes and rides for more refined variations. You can also tune your drums, add damping to make the sound warmer, change the sound of the virtual space in which the drums are played, or even become your own sound engineer—shaping your drum tones to perfection with the powerful drum-specific EQs of the TD-07 module.
Authentic Acoustic Tone and Response
V-Drums deliver a rich array of sounds to keep you inspired. And despite their smaller size, the TD-07DMK's drum and cymbal pads have precision sensors that accurately respond to your hits, strokes, rolls, flams, cymbal chokes, and ghost notes, with the module translating your performance with total precision at lightning speed. But best of all, this technology is completely invisible—so all you need to do is sit down and drum.
Genuine Roland Mesh-Head Pads
Roland developed the world's first mesh drumhead in 1997, and we've led the way ever since. Having two custom-mesh layers gives natural stick resistance and rebound that's incredibly close to an acoustic drumhead, alongside adjustable tension that lets you fine-tune for feel with a standard drum key. Once you've experienced the unbeatable feel and accuracy of V-Drums mesh pads, there's no going back.
Rugged and Reliable Drum Stand and Hardware
When you're drumming hard, there's nothing more frustrating than an unstable stand or a pad that moves away as you play. Despite the kit's compact footprint, robust construction provides the rock-solid stability that drummers need, with a custom drum stand and precision clamps that lock all components in place. Upholding V-Drums' reputation for durability, the TD-07DMK can be relied upon to endure many years of demanding performance.
Playback Audio and Jam Along with Bluetooth
The TD-07DMK makes it easy to drum along with your favorite bands. Just select the music on your smartphone, tablet, or computer, then wirelessly stream the audio through to the TD-07 module as you join in. Video sound is transmitted too, so you can play along with online songs and video lessons. And if your device doesn't have Bluetooth, just bring in stereo sound via an audio cable. MIDI over Bluetooth is also supported for cable-free recording of MIDI data in music apps.
Make Drum Practice Fun with 40 Free Lessons from Melodics
Connect your V-Drums kit to Melodics™, a desktop app that lets you play along to step-by-step lessons and tracks. You'll master new beats, tighten up your timing, and record your drumming to highlight areas for improvement. There's no limit to how many times you can play your 40 free lessons, and when you're ready to go further, you can subscribe for unlimited tutorials. Say goodbye to aimless practice sessions—with the TD-07DMK and Melodics, every minute spent at the kit will count.
Go from Strength to Strength and Track Your Progress
Imagine having a coach by your side whenever you pick up the sticks—to guide you, challenge you, show what you're doing well, and where you can improve. The built-in Coach mode inside the TD-07 module does exactly that, with timing and accuracy exercises ranging from easy to hard, along with scoring that helps make learning fun. And don't forget the metronome, a rock-solid timing partner to help develop your inner rhythm clock.
Connect and Record via USB
The TD-07DMK is more than just a great drum kit—it's also a high-quality audio/MIDI interface for Mac and Windows computers. With just a single USB cable, you can send stereo audio and MIDI data from the module directly to your favorite music production software, or use the kit to trigger software-based drum instruments for studio or live playing. And if you already play another instrument and want to add some drum parts to your music, the TD-07DMK is a great no-fuss addition to your home studio—just set up, connect, and add realistic-sounding drums to your productions.
SPECIFICATIONS
Kit configuration (*1)
Kick: KD-2
Snare: PDX-8
Hi-hat: CY-5
Hi-hat control pedal: Half-open stroke detectable
Tom: PDX-6A x 3 *2
Crash: CY-5
Ride: CY-5
Drum stand: Four-post type rack stand
Drum kits
50 (Preset: over 20)
Instruments
143
Effect Types
Pad Equalizer: each pad
Overhead Mic Simulator
Room
Multi-Effects: 1 system, 30 types
Coach functions (5 modes)
Time check (easy)
Time check (hard)
Quiet count
Auto up/down
Change-up
Metronome
Tempo (20--260)
Rhythm type (5 types)
Sounds (15 types)
Bluetooth
Supported standards: Bluetooth Ver 4.2
Supported profile: A2DP (Audio), GATT (MIDI over Bluetooth Low Energy)
Codec: SBC (Support to the content protection of the SCMS-T method)
Display
16 characters x 2 lines LCD (with backlight)
Connectors
OUTPUT/PHONES jack: Stereo miniature phone type
MIX IN jack: Stereo miniature phone type
USB COMPUTER port: USB B type
TRIGGER INPUT connector: DB-25 type (Kick, Snare, Tom 1, Tom 2, Tom 3, Hi-hat, Crash 1, Crash 2, Ride, Hi-hat control)
USB COMPUTER
Speed: Hi-speed USB
Driver mode: Generic, Vender
Protocol: USB MIDI, USB Audio *3
USB Audio
Sampling Rate (original): 44.1 kHz
Sampling Rate (with sampling rate converter): 96 kHz, 48 kHz
Record: 2 channels
Playback: 2 channels
Power supply
AC adaptor (DC 12 V)
Current draw
250 mA
Accessories
Setup Guide
Owner's Manual
Leaflet "USING THE UNIT SAFELY"
AC adaptor
Special connection cable
Options (sold separately)
Additional crash cymbal (Crash2): CY-5, MDY-Standard *4
Personal drum monitor: PM series
V-Drums accessory package: DAP-3X
V-Drums mat: TDM series
Noise eater: NE series
SIZE & WEIGHT
Dimensions
1,200 (W) x 1,100 (D) x 1,200 (H) mm
47-1/4 (W) x 43-5/16 (D) x 47-1/4 (H) inches

(including sound module, kick pad, kick pedal and drum throne)
Weight
18.0 kg / 39 lbs 11 oz
*1 Kick pedal and drum throne are not included.
*2 Rim-shot is not supported.
*3 In order to use USB audio, switch to vendor mode and use the vendor driver.
*4 MDY-Standard is additionally required for mounting a CY-5 on the stand.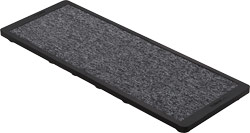 NE-10Noise Eater
Highly effective sound isolation board designed specifically for use with V-Drums kick pads/pedals and hi-hat control pedals.
VIEW PRODUCT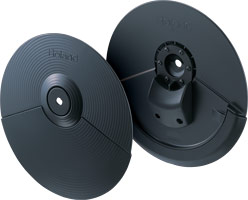 CY-5Dual-Trigger Cymbal Pad
Featuring a 10-inch playing zone and swing movement for more drummer-friendly triggering.
VIEW PRODUCT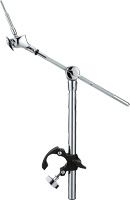 MDY-12Cymbal Mount
Cymbal mount with a flexible ball-clamp and foldable boom arm that's compatible with all Roland MDS-series drum-rack hardware.
VIEW PRODUCT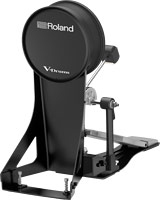 KD-10Kick Pad
The Feel of an Acoustic Kick Drum (But Quieter)
VIEW PRODUCT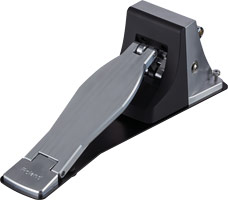 KT-10Kick Trigger Pedal
All-in-one kick trigger pedal with innovative reverse-action trigger mechanism for low-noise operation.
VIEW PRODUCT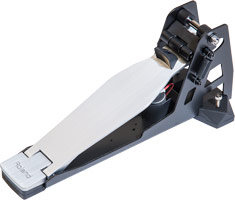 KT-9Kick Trigger Pedal
Innovative Beaterless Kick Pedal for Ultra-Quiet Night Practice At Home on Electronic Drums
VIEW PRODUCT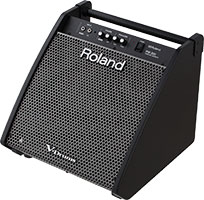 PM-200Personal Monitor
High-Resolution Sound Monitoring, Fine-Tuned for Roland's V-Drums.
VIEW PRODUCT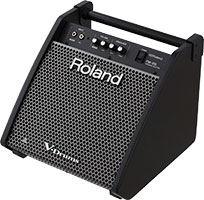 PM-100Personal Monitor
High-Resolution Sound Monitoring, Fine-Tuned for Roland's V-Drums.
VIEW PRODUCT
View full details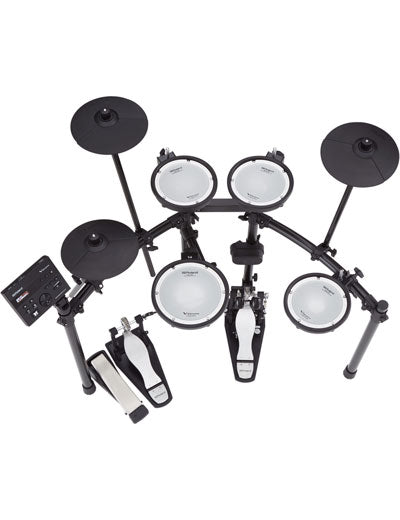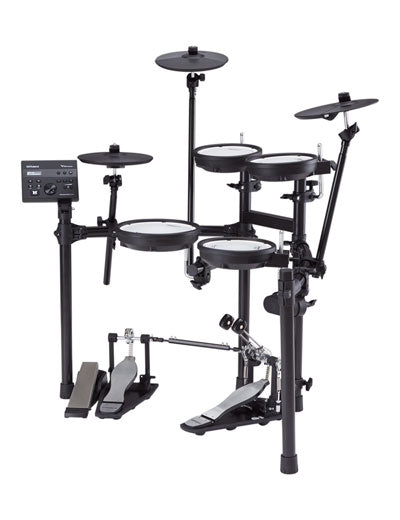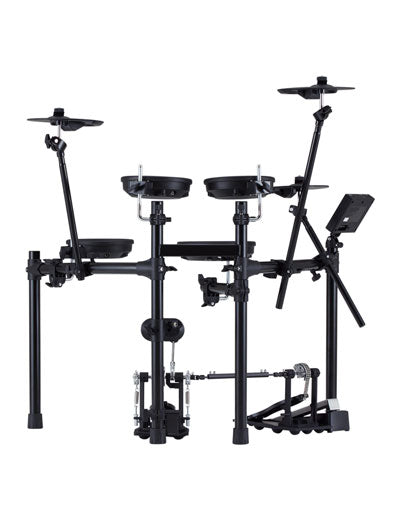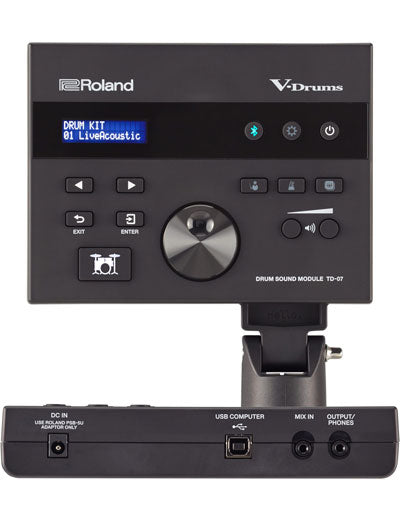 ADAM AUDIO T8V
Recording Magazine tests our new T8V nearfield monitor and draws the following conclusion:" The low...
Read More
Focal Pro
Professional Audio
Our professional monitors are designed from the very beginningto
reporoduce the sound signal without any alteration. These monitors
will meet the needs of the biggest studios as well as the smalles ones.
'Listen to your music, not to your speakers!'
Shop now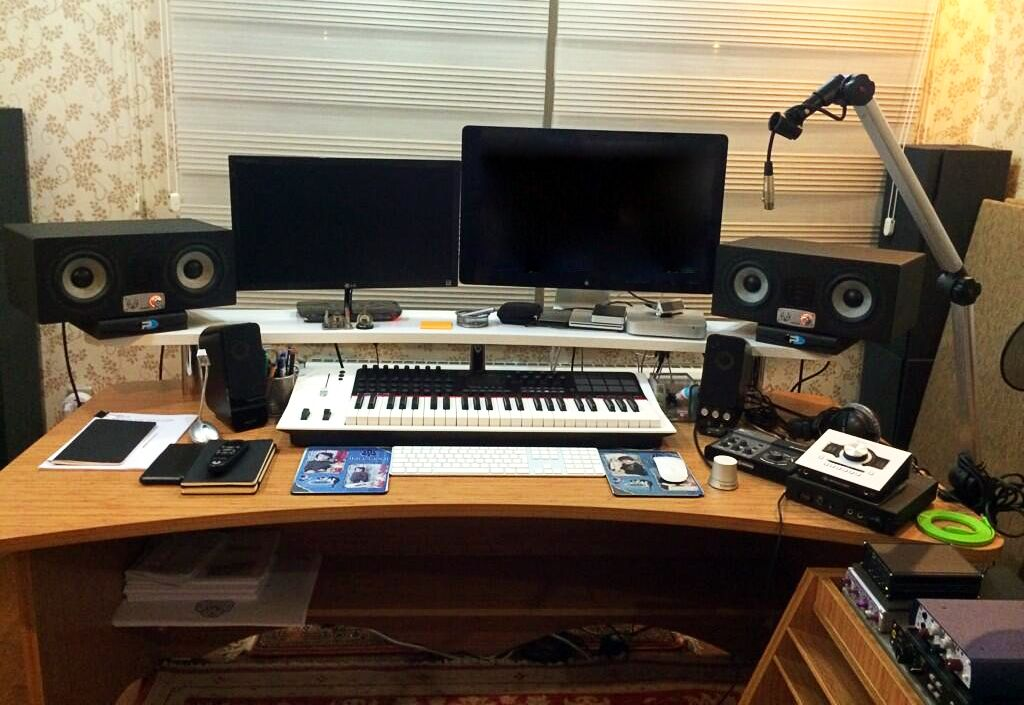 EVE AUDIO
SC4070 WON 37TH TEC AWARD
EVE Audios SC4070 won the 37th Technical Excellence & Creativity (TEC) Award in the category of Studio Monitors.
Shop now