Share
Roland
Regular price
Rs. 430,000.00
Regular price
Rs. 455,016.00
Sale price
Rs. 430,000.00
Unit price
per
Sale
Sold out
4-piece Wood Shell Electronic Drum Set with 14" Snare, 20" Kick, 10" Mounted Tom, 14" Floor Tom, 14" Crash Cymbal, 18" Ride Cymbal, 12" Hi-Hats, and TD-27 Sound Module - Midnight Sparkle
VAD503 V-Drums Acoustic Design
Streamlined Kit with Full-Size Wooden Shells
When you need the glamour and presence of a full acoustic drum set on stage—but with the convenience and control of electronic drums—the VAD503 is the perfect solution. This premium 'one-up, one-down' kit features wooden shells with full depth and diameter, exquisitely finished and mounted on double-braced chrome stands for a look that will have the audience convinced you're playing acoustic drums. Roland's advanced digital sensor technology and dynamic TD-27 drum module provide the sound and response to match, making sure every stroke, ghost note, roll, and swell is fully expressed in incredible detail.


Standard Features
Four-piece V-Drums Acoustic Design kit with full-size wood shells and double-braced chrome stands
TD-27 sound module with advanced Prismatic Sound Modeling derived from the flagship TD-50
14" PD-140DS digital snare and 18" CY-18DR digital ride cymbal with high-resolution, multi-sensor triggering for unparalleled dynamics and accurate positional detection
10" PDA100-MS rack tom, 14" PDA140F-MS floor tom, and 20" KD-200-MS kick with custom chrome hardware and Midnight Sparkle wraps
Additional cymbal pads include 12" VH-10 V-Hi-Hat and 14" CY-14C-T crash
Drum in inspiring sound spaces with newly developed PureAcoustic Ambience Technology
Hands-on interface for quick-and-easy selecting and personalizing drum sounds
Import your own WAV samples via an SD card
Stereo mix output and two assignable outputs for sending individual drum sounds to a PA mixer
Integrated 28-channel USB audio interface for professional computer music production
Three auxiliary trigger inputs for easy kit expansion
Onboard Bluetooth for drumming with music from a smartphone or laptop
Built-in practice functions for developing drumming skills
Introducing V-Drums Acoustic Design
V-Drums Acoustic Design is a brand-new V-Drums experience, blending the physical presence of acoustic drums with Roland's world-leading digital percussion technology.
V-Drums Acoustic Design VAD506/VAD503 Overview
When you need the glamour and presence of a full acoustic drum set on stage—but with the convenience and control of electronic drums—the V-Drums Acoustic Design VAD506 and VAD503 are the perfect solution.
V-Drums Acoustic Design VAD506/VAD503 Sounds
The VAD506 and VAD503 both use the TD-27 sound module, loaded with the finest acoustic drum sounds you've ever heard.
V-Drums Acoustic Design VAD506/VAD503 In-Depth Overview
A premium and exquisitely finished 5-piece piece (VAD506) and 4-piece (VAD503) shell pack featuring full-diameter, full-depth acoustic toms and kick drum.
An Immersive Acoustic Drumming Experience
With the impressive looks, familiar layout, and inspiring playability of a high-end acoustic kit, the VAD503 makes any drummer feel instantly at home. There's a 14" stainless steel snare, plus 10" rack tom, a 14" floor tom, and a 20" kick constructed with full-depth wood shells, adding to the authenticity and providing genuine acoustic feel under the stick and beater. A full complement of cymbals includes a 12" V-Hi-Hat, 14" crash (with thin profile and textured finish), and an 18" ride for superior playability and natural appearance on stage.
14" Digital Snare and 18" Digital Ride Cymbal
Roland's cutting-edge digital pad technology brings even deeper realism to the V-Drums experience. The digital snare and ride pads connect to the TD-27 module via USB cables, working together with the sound engine to deliver the most natural expression, allowing your drumming skills to be heard in incredible detail. Multiple sensors and lightning-fast processing provide amazing response, enabling you to play genuine techniques in the most natural way. Ghost notes, rim shots, and cross stick playing on the snare are precisely detected and translated, while the ride offers wide tonal range and the ability to subtly mute with just a touch of the bow or bell.
The Natural Feel of Acoustic Drums
Roland's legendary multi-ply, tension-adjustable mesh heads contribute significantly to the authentic playing feel, giving you stick rebound that's customizable for your individual playing style. And when you bury the beater into the specially designed kick drum, you physically move air inside the shell, creating air pressure and resistance that feels remarkably like playing an acoustic kick.
Go Deeper with Prismatic Sound Modeling
Derived from the flagship TD-50, the TD-27 sound module is filled with drums that live and breathe like acoustic instruments. We start by sampling the finest drums, percussion, and cymbals—both vintage and modern—in world-class recording studios. Roland's unique Prismatic sound modeling is then applied to the samples, bringing them alive with proprietary behavior modeling refined over two decades. Every time you strike a drum or cymbal, you're not simply triggering a canned sound—you're playing a full-bodied instrument that responds like its acoustic counterpart in every way, with an unprecedented sonic range at your command.

Create (and Craft) Your Signature Drum Kit
With acoustic drums, you make the sound your own by swapping head types, adjusting the tuning, applying damping, tweaking the snare wire tension, changing out the kick beater, and more. This is all possible with the TD-27 module, allowing you to craft customized kits for any situation. Just strike a pad to select it, and then use the hands-on controls and intuitive editing tools to get the sound just how you like it. Your edits are saved automatically too, so you always stay focused on playing. It's even possible to load your own samples and layer them with the internal sounds to personalize kits even more.

Double-Braced Chrome Drum Stands
The way acoustic drums and cymbals are mounted not only projects a classic image—it also influences the playing feel. The tom pads mount on the same stands used for acoustic toms—so they feel just right when they're hit. Newly developed thin V-Cymbals also attach to the stands with a special pivot mount, for a natural acoustic-style 'swing' when played. And every stand is double-braced for rock-solid stability, and easily adjusted to suit your preferred layout.
PureAcoustic Ambience Technology
New PureAcoustic Ambience Technology optimises each kit, creating an incredibly natural and immersive sound field when playing. But you can go deeper too, and adjust the mic position on each drum kit, and dial in the overall sound with the newly developed overhead mic simulator. Finally, advanced onboard multi-effects and mixing capabilities give you the power of a full-scale studio console, with transient, parametric EQs, compressors, reverbs, delays, and more at your command.
Powerful Connectivity for Stage and Studio
The VAD503 delivers fantastic sound for live performance or recording, thanks to a wealth of connectivity options. The TD-27 module features stereo outputs for the overall drum sound, plus two direct outputs for sending kick, snare, and other sounds to an audio console for independent mixing. In the studio, the built-in USB audio interface makes computer music production easy, with up to 28 audio channels available over a single cable. MIDI is also supported via USB and dedicated I/O, allowing you to sync with other MIDI devices and trigger sounds in computer software.
Kit Expansion Made Easy
With the VAD503, you're not stuck with a static setup. Using the TD-27 module's three auxiliary trigger inputs, it's easy to add tom and cymbal pads to bolster your arsenal. Or you may go for maximum impact with an imposing double-kick setup. Whatever you're thinking, the auxiliary trigger inputs are the gateway to your ideal drum setup.
Bluetooth Connectivity and Built-In Coaching Tools
Built-in Bluetooth lets you wirelessly stream audio from a phone or laptop to the module, ideal for jamming with headphones. Play along with favorite music tracks or mix the sound from a YouTube lesson video with the kit. Onboard coach functions develop skills and track your progress, while the advanced metronome helps improve your inner clock. And at any time, you can record your playing and listen back to highlight what you need to work on.
SPECIFICATIONS
Kit configuration
Drum sound module: TD-27 x 1
Snare: PD-140DS x 1
Tom1: PDA100-MS x 1
Tom3: PDA140F-MS x 1
Hi-hat: VH-10 x 1
Crash1: CY-14C-T x 1
Ride: CY-18DR x 1
Kick: KD-200-MS x 1

Drum combination stand: DCS-10 x 1
Drum boom stand: DBS-10 x 1
All purpose clamp: APC-10 x 1Extra trigger input jack4 (AUX1-AUX3, CRASH 2)

SIZE AND WEIGHT
Dimensions 1,700 (W) x 1,400 (D) x 1,200 (H) mm
66-15/16 (W) x 55-1/8 (D) x 47-1/4 (H) inches
(including Kick pad, Cymbals, Hi-hat stand and Drum throne)

Weight 42 kg / 92 lbs 10 oz

OTHERS
Accessories Sound module mount
AC adaptor
Special connection cable
Drum key
Setup guide
Owner's manuals

Options (sold separately)
Personal drum monitor: PM series
V-Drums accessory package: DAP-3X
Noise eater: NE-10, NE-1This package does not include a kick pedal, a snare stand, a hi-hat stand, a drum throne, and a SD card.
DOWNLOADS
View full details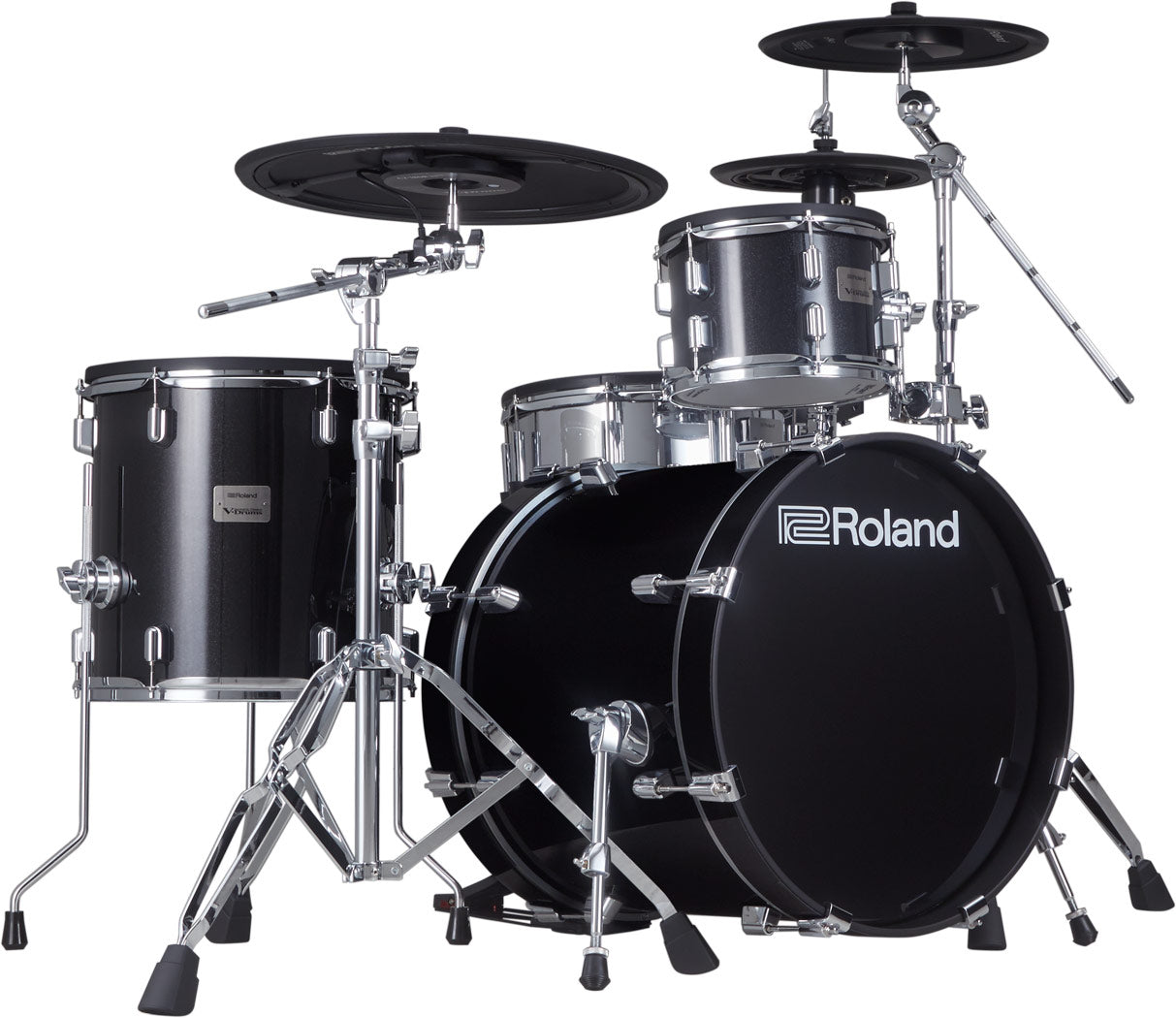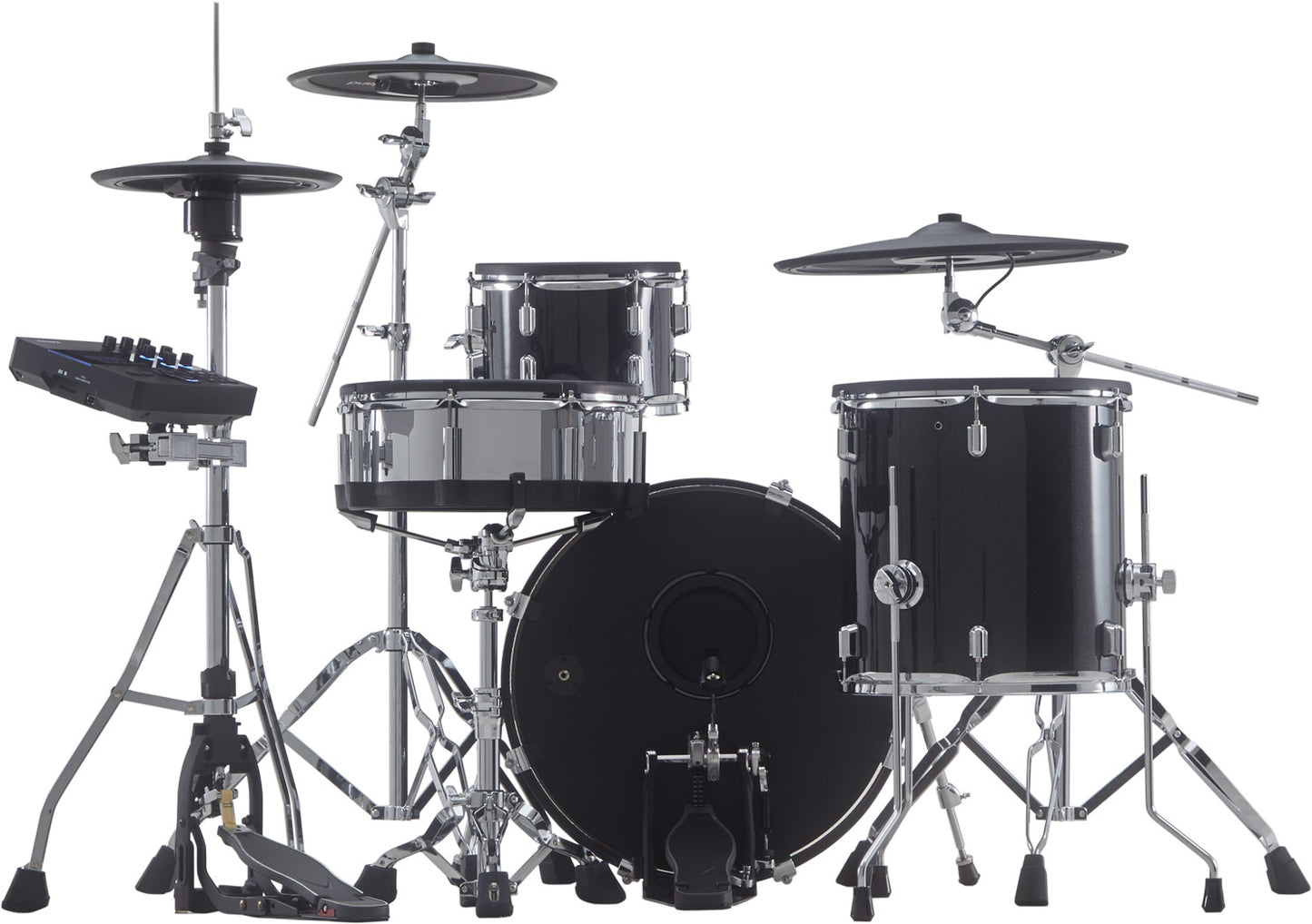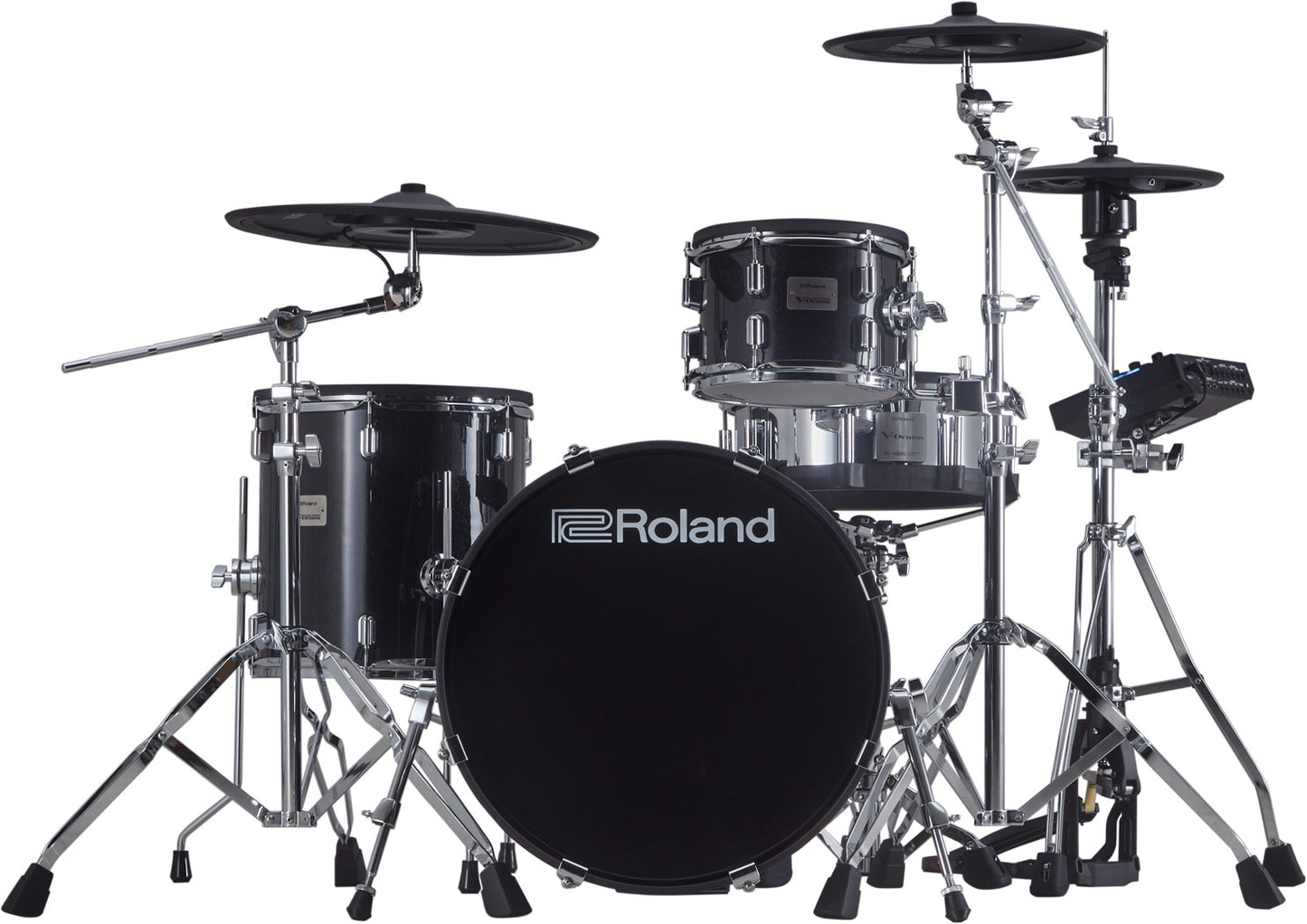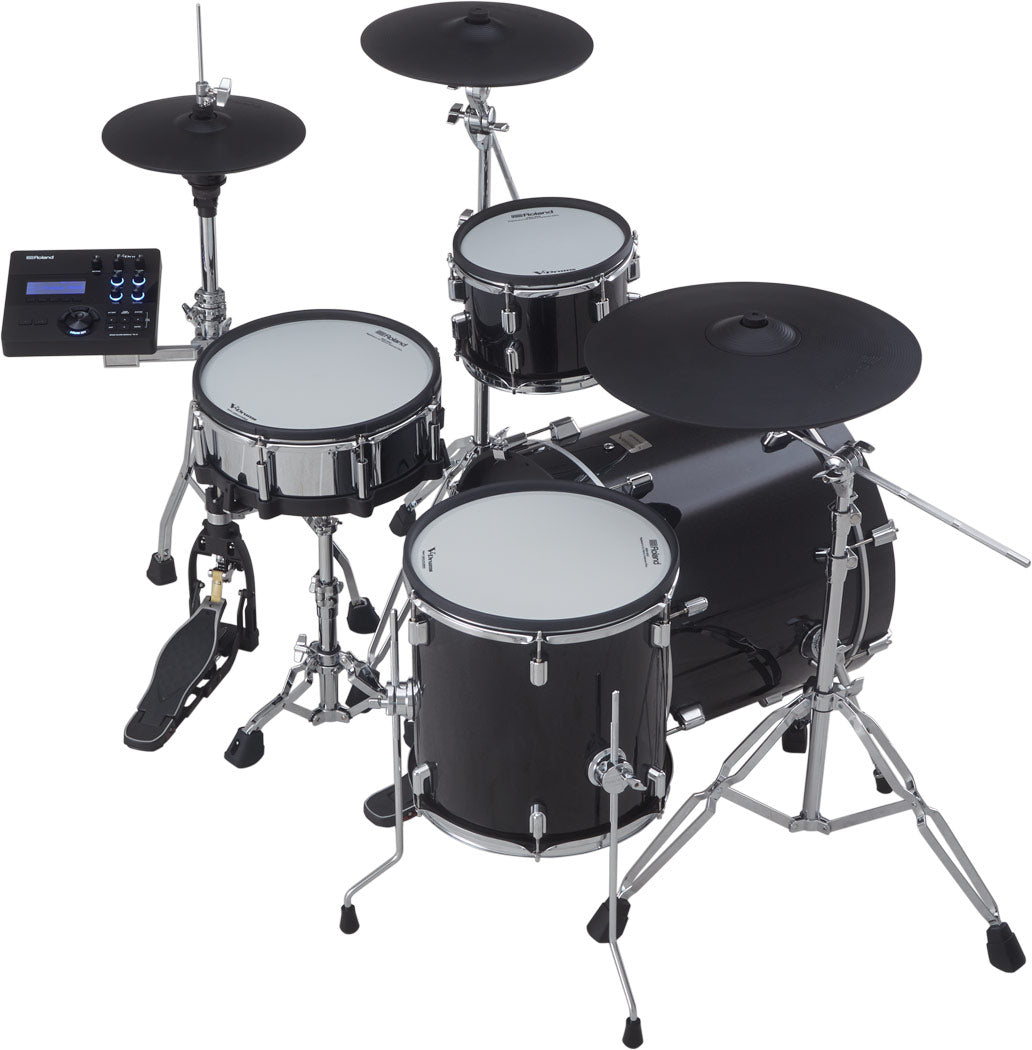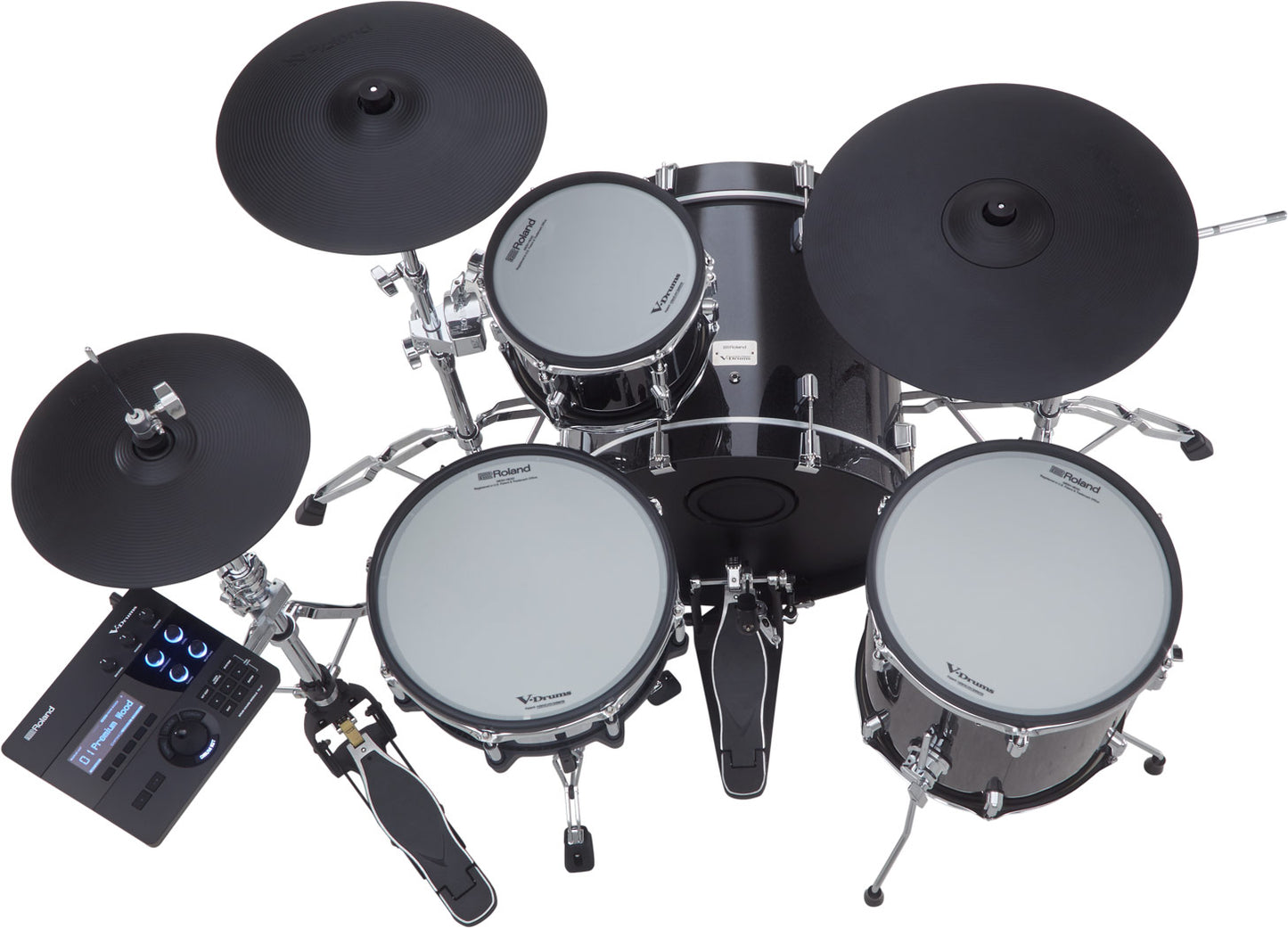 ADAM AUDIO T8V
Recording Magazine tests our new T8V nearfield monitor and draws the following conclusion:" The low...
Read More
Focal Pro
Professional Audio
Our professional monitors are designed from the very beginningto
reporoduce the sound signal without any alteration. These monitors
will meet the needs of the biggest studios as well as the smalles ones.
'Listen to your music, not to your speakers!'
Shop now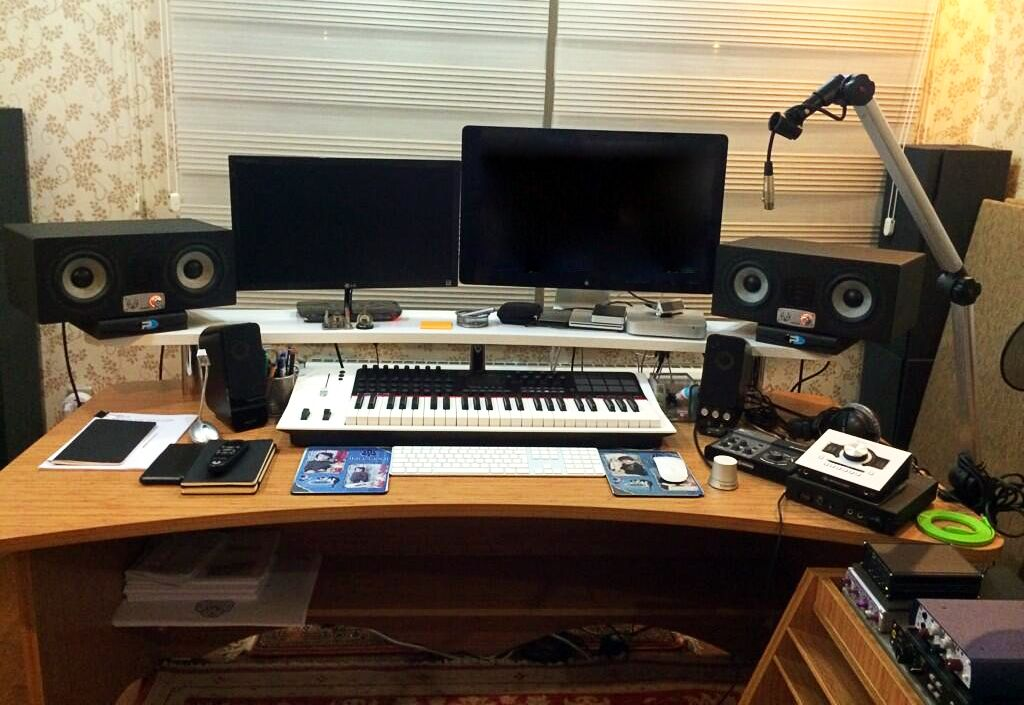 EVE AUDIO
SC4070 WON 37TH TEC AWARD
EVE Audios SC4070 won the 37th Technical Excellence & Creativity (TEC) Award in the category of Studio Monitors.
Shop now