BMD
Regular price
Rs. 215,990.00
Regular price
Rs. 302,257.00
Sale price
Rs. 215,990.00
Unit price
per
Sale
Sold out
Share
Work Faster

 

and Get More

 
Creative Control!
---
Three Panels to Choose From
With three panels to choose from, it's easy to find one that perfectly fits your job and project scope. If you're just getting started, the DaVinci Resolve Micro Panel is incredibly compact while featuring dozens of professional color controls. It fits perfectly next to a keyboard and is great for on set grading with a laptop. The DaVinci Resolve Mini Panel is ideal for freelance artists that need a fully featured portable panel that can be set up at home or moved between jobs. The DaVinci Resolve Advanced Panel is designed for professional color suites on feature film, television and commercial projects. All 3 panels have similar layouts, making it easy to move up when you're ready!
DaVinci Resolve Micro Panel
This low profile panel features 3 high resolution trackballs and 12 precision machined knobs to access the primary color correction tools. There are buttons for switching between log and primary wheels, a key for full screen playback and a set of keys for common features and workspace navigation.
---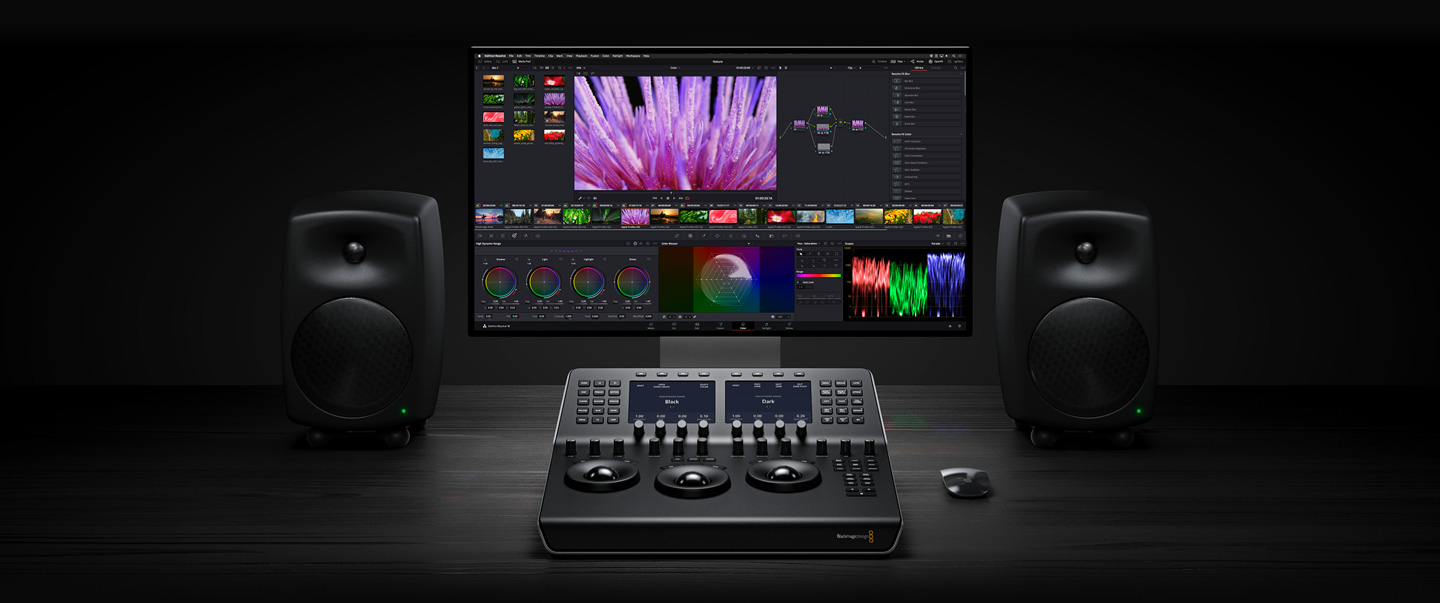 DaVinci Resolve Mini Panel
This compact panel offers a massive number of controls! You get everything on the Micro Panel as well as buttons for switching tools, adding color corrector nodes, applying secondary grades and using Power Windows. The LCD screens at the top display menus and controls for adjusting the selected tool.
---

DaVinci Resolve Advanced Panel
Designed in collaboration with professional colorists, the DaVinci Resolve Advanced Panel allows you to have quick, one touch access to virtually every parameter in the program. A fourth trackball controls the luminance and color balance of the image, without needing to toggle trackball settings.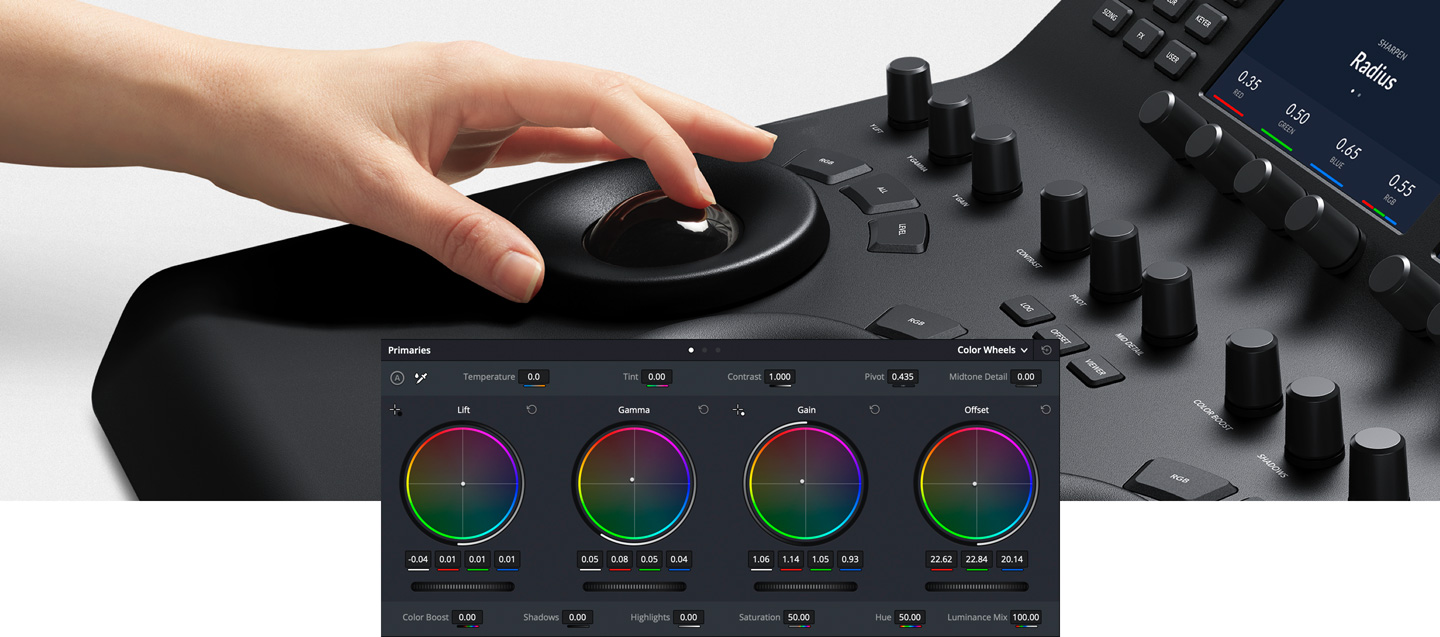 Professional Trackballs
The trackballs let you adjust the colors in an image based on lift, gamma and gain tonal ranges. Unlike a mouse and keyboard, you can manipulate multiple trackballs simultaneously to create unique effects. The smooth gliding rings around the trackballs let you set master levels and establish dynamic contrast. Keys above each trackball reset the color adjustment, level adjustment or both. Three keys at the top of the DaVinci Resolve Mini and Micro Panels let you switch between primary and log wheel modes, activate offset, temperature and tint controls and turn on your full screen viewer output. The DaVinci Resolve Advanced Panel has a fourth master gain trackball to adjust the entire image.
---

Primary Adjustment Controls
Primary adjustment controls affect the luminance and chrominance of your entire image using a variety of tools that target specific tonal and hue ranges. These tools represent the most common adjustments required to produce dynamic imagery, making them a popular choice for photographers, graphic designers and colorists working on a tight deadline. The DaVinci Resolve Micro Panel and Mini Panel include 12 primary color correction control knobs that make it easy to quickly adjust image contrast, saturation, hue, temperature, tint, midtone detail, color boost, shadows, highlights and more. All knobs can be pressed to instantly reset the control so you can easily experiment with new looks!


Y Lift, Y Gamma and Y Gain
The dedicated lift, gamma and gain knobs, which are sometimes referred to as shadows, midtones and highlights, allow you to adjust the luminance, or brightness, of each specific area of an image's tonal range. With these specific controls, you adjust brightness without affecting color saturation.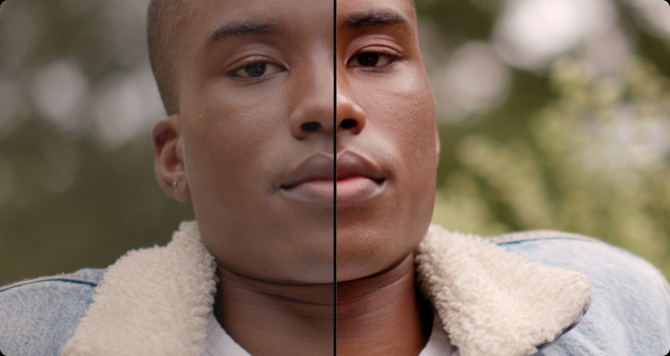 Contrast and Pivot
Contrast is used to change the tonal difference between light and dark parts of an image. Pivot adjusts contrast "balance" which can offset the contrast tonal ranges. Once contrast is set, use pivot to refine the tonal center of tonality, brightening or darkening the image while retaining contrast.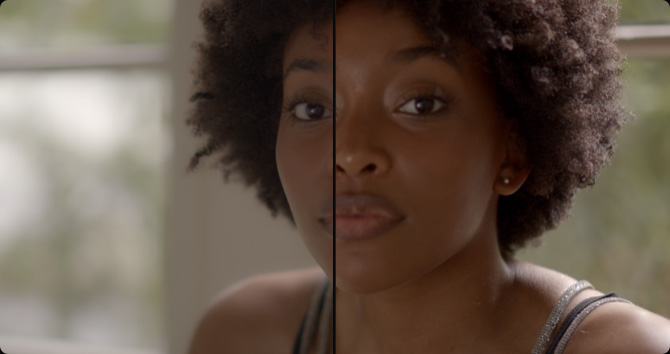 Midtone Detail
Increasing or decreasing midtone detail changes the contrast on edge details in an image. Adjusting midtone detail changes the perception of sharpness and definition. It can be used to accentuate the stubble on an actor's face, make a scene look sharper, or to gently defocus skin for beauty work.
Blackmagic Design DaVinci Resolve Mini Panel
3 x High-Resolution Trackballs
12 x Primary Correction-Control Knobs
18 x Navigation and Transport Keys
Dedicated Feature Buttons
2 x LCD Information Display Screens
Backlit and Illuminated Buttons
USB Type-C and Ethernet Interface
Supports Mac and Windows
Supports Select Linux Installations
USB 3.0 Type-A to Type-C Cable Included
Description
Description
A compact professional hardware control panel featuring 3 high resolution weighted trackballs, 12 control knobs for essential tools and an upper deck with two 5" screens, DaVinci Resolve Mini Panel has 8 soft knobs and 8 soft buttons, and dedicated keys for switching tools, working with nodes, grabbing stills, navigating the timeline and more!
Connections
Computer Interface
USB Type‑C.
Ethernet
1 x Ethernet connection supporting 10/100/1000 BaseT with PoE.
1 x Ethernet connection supporting 10/100/1000 BaseT.
Power
1 x IEC C14 mains input.
1 x +12V DC 4‑pin XLR.
1 x Ethernet with PoE.
Power Requirements
Power Supply
Internal 100 - 240V AC 1.5A 50/60Hz with IEC C14 mains input.
Power Usage
17W max.
Environmental Specifications
Operating Temperature
0° to 40°C (32° to 104°F)
Storage Temperature
-20° to 60°C (-4° to 140°F)
Relative Humidity
0% to 90% non-condensing
What's Included
DaVinci Resolve Mini Panel
DaVinci Resolve Studio activation key
Warranty
1 Year Limited Manufacturer's Warranty.
View full details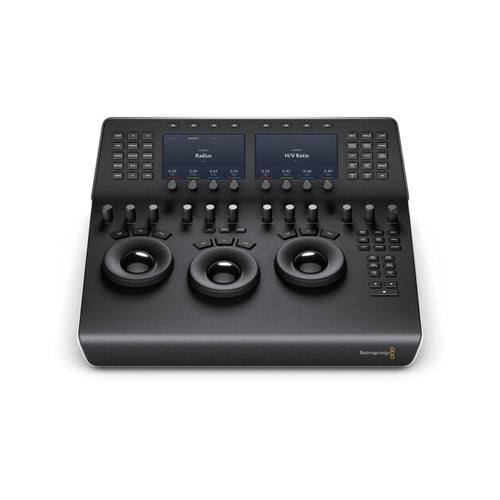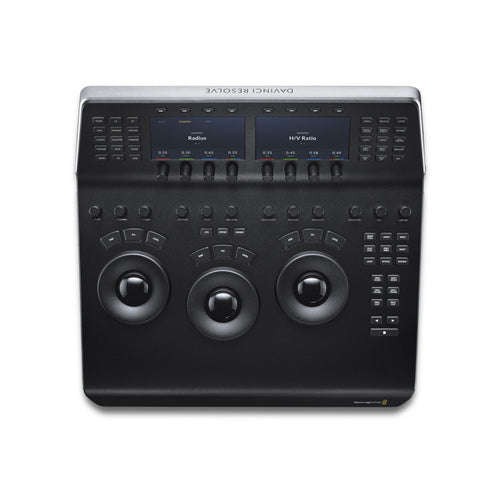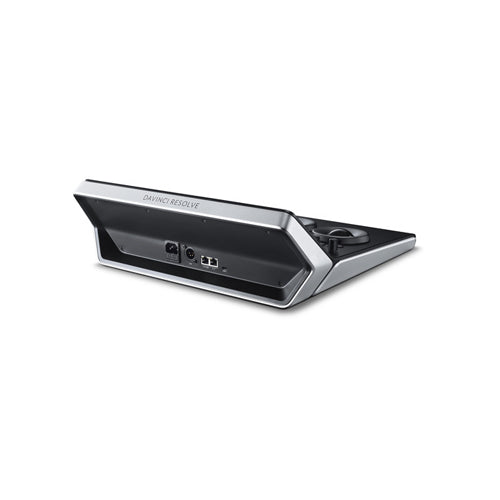 ADAM AUDIO T8V
Recording Magazine tests our new T8V nearfield monitor and draws the following conclusion:" The low...
Read More
Focal Pro
Professional Audio
Our professional monitors are designed from the very beginningto
reporoduce the sound signal without any alteration. These monitors
will meet the needs of the biggest studios as well as the smalles ones.
'Listen to your music, not to your speakers!'
Shop now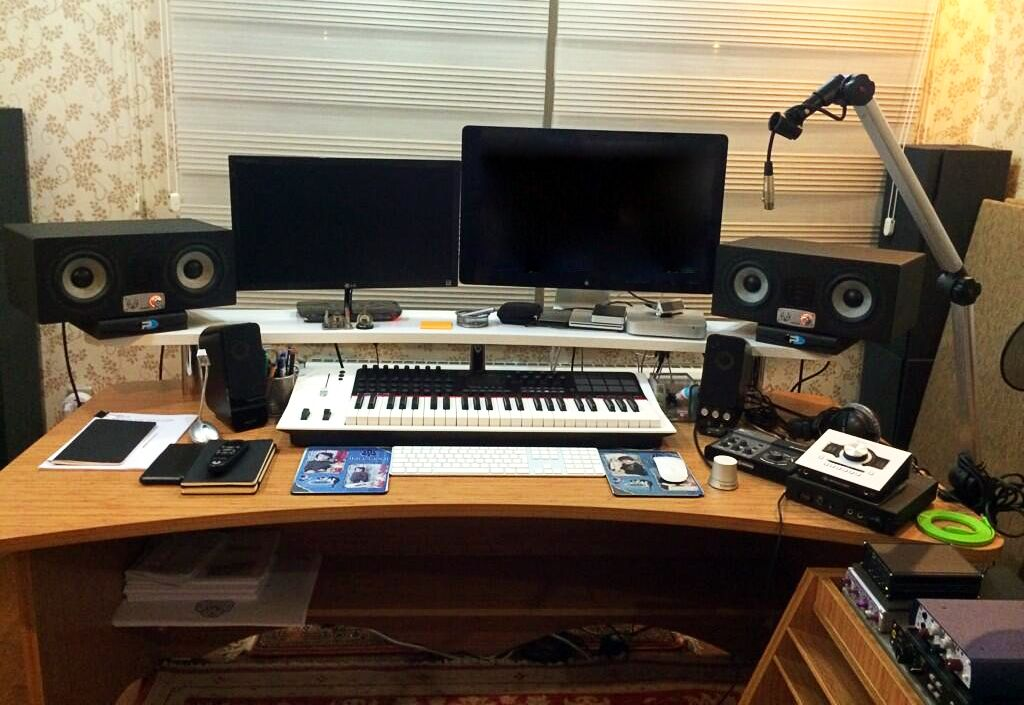 EVE AUDIO
SC4070 WON 37TH TEC AWARD
EVE Audios SC4070 won the 37th Technical Excellence & Creativity (TEC) Award in the category of Studio Monitors.
Shop now